Moline High School
Class of 1965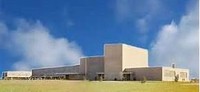 In Memory
Wesley Mitchell
Wesley A. Mitchell, 64, of Rock Island, died Nov. 19, 2011 at his home. Graveside services were held at 2:00 p.m. on Wednesday, November 23, 2011, at Moline Memorial Park, at 5001 34th Avenue, Moline, IL. Esterdahl Mortuary & Crematory, Ltd., is assisting the family.

Wes was born on May 8, 1947, the son of Robert F. and Elsie S. Mitchell. He graduated from Moline High School in 1965.

Wes worked for several years as a long-haul truck driver for Bar-Nunn Transportation. He was a racing enthusiast and won a number of championship trophies for his pool-playing prowess through the years.

Surviving is his sister, Melissa Mitchell, and her life partner, Jim Rowland, Champaign. Wes was preceded in death by his parents and twin brother, Christopher B. Mitchell.