Moline High School
Class of 1965
In Memory
Al Andrews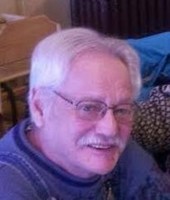 Allan E. Andrews of Silvis, formerly of Moline, died unexpectedly Wednesday, Aug. 27, 2014, at his home.
A graveside service will be 2:30 p.m. Friday, Sept. 5, at Rock Island National Cemetery, Arsenal Island. All wishing to attend should meet by 1:30 p.m. at Esterdahl Mortuary & Crematory, Ltd., 6601 38th Avenue, Moline. Military rites will be conducted by the East Moline American Legion Post 227. A celebration of his life will follow at 5 p.m. Friday evening at Len Brown's North Shore Inn. In lieu of flowers, donations may be made to the Allan Andrews memorial account at First Midwest Bank.
Allan was born July 7, 1947, in Moline, to Alvin (Andy) and Marjorie Andrews, who preceded him in death. He was confirmed at Salem Lutheran Church and graduated from Moline High School in 1965.
Al was proud of his Swedish heritage and a very proud member of the VVA (Vietnam Veterans of America). He served in the United States Army as an artillery communications specialist during the Vietnam War.
He was most recently employed at Enterprise Rental Cars, but it was his career as bartender at Len Brown's North Shore Inn, The Belgrade, Regal Lanes and The Gallery that he's most fondly remembered for.
Al's many interests included a lifelong love of motorcycles (especially his favorite Triumph). His many friends remember him as a free spirit with a "come on, let's go" smile. He frequented the Dickeyville, Wis., hill climb; Peoria T-T races, and the Knoxville (Iowa) World of Outlaws sprint-car races.
His interests were not limited to land. He also loved the water. He competed in flat-water canoe racing; cruised most of the rivers in northern Illinois and Iowa in a canoe or kayak, and fished many Illinois farm ponds, as well as Lake Michigan. He spent several years in Southern California beach towns and fished mountain streams all over the West. Al loved to go camping, especially in the spring, when in the company of a few "woodsy friends," he would hunt for the very tasty Morel mushroom.
In the words of one of his dearest friends: "Al was a connoisseur at life's table; he sampled fully and whenever possible, whether it was food, people, music or nature. He will never be far from our thoughts and always in our hearts."
Survivors include sister, Patti Stuck (Andrews); brother-in-law, Lester Stuck; and nephews, Andrew Allan Stuck and Matthew Bernard Stuck.
Online condolences may be left for his family by visiting his obituary at www.esterdahl.com.