Moline High School
Class of 1965
Welcome to the web site for the
Moline High School Class of 1965

Our Moline 75th Birthday Party
When: September 16-18, 2022
What and Where:
Casual Friday and Saturday Dinner: CityView, Velie Park, 701 12th Street, Moline, Illinois 61265, 6-10 pm.
🆕 Friday Golf morning: Our outing will be Friday, September 16th, 8:00am, Highland Springs. So far we have 8 spots open. Contact John Katherman at johndar2@mchsi.com
Sunday Brunch: The Conservancy, Knoxville Road, 3800 Flora Dr., Knoxville Road, Milan, IL 61264 (same place we've had Sunday brunch for past reunions) 9:30 am-noon.
Cost: $20 per person for Friday and $35 per person for Saturday dinner
Hotel update: Radisson brand name now Wyndham. Same ownership, management, and services.
Room blocks and other accommodation suggestions: You can reserve a room from our room block at the Wyndham Moline on John Deere Commons and East Moline Hyatt, or you can get your own accommodation at other nice places such as Moline's Best Western Airport and Holiday Inn Express.

Wyndham (309-764-1000)— Th-Sun before-tax rates for Double Queen $99+, King $109+ are available until August 26, 2022. Ask for the MHS Class of 65 room block.
Hyatt House (309-755-6000)—Th-Sun rates for King Suite or ADA rooms $149 are available until August 15, 2022. Press 2 for Hyatt House and ask for Moline HS Class of 65 room block.
Registration: You should have gotten a registration form with your email announcement sent out May 18, 2022, or you can get it here. Please return it by August 31, 2022.
This will be a casual weekend, a time to visit and celebrate 75 years! Please check back here for any changes or new additions..
* * * * *
You're invited . . .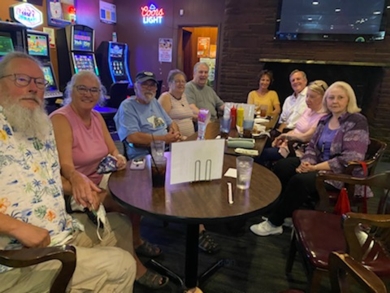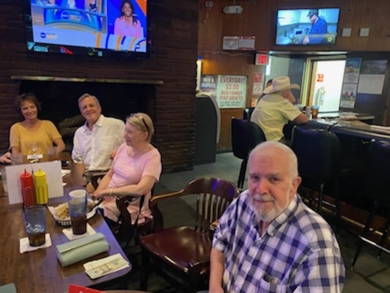 Photos courtesy of Jeannine Forsyth: Jerry Miller, Phyllis Miller, Bob Groene, Joyce McMinn Strach, Tom Alstrand, Cyd Hillyer Humphreys, Jeff Johnson, Vee Johnson Maday, Barry Curtis
HAFNERS — A Moline institution where the food is excellent and the fellowship even better--especially at lunchtime when members of the MHS class of '65 will gather. All are welcome--join in on Wednesday, September 7th, at 11:30 ish this month and every first Wednesday of the month in the future.
* * * * * *
Let's move and renew the sandbagging plaque!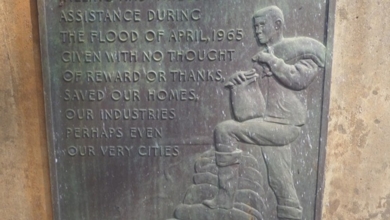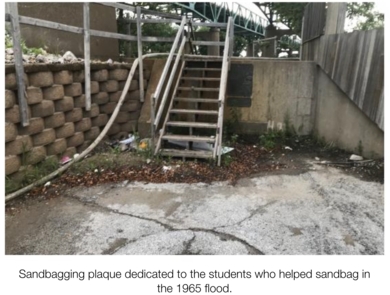 If you'd like to join in helping support the renewal and relocation of the plaque shown above to a location by the new bridge, please complete your GoFundMe donation form by August 1. The city is paying for some of the project but we are being asked for help. Officials expect the display to be in place by September 2022. There will be some photo ops at times to be announced when it's finished.
Donations can be made at the GoFundMe site here.

Update: Jim Egge, MHS '67, recently notified us that the plaque will be renewed and moved to a new, more appropriate location near the new bridge. There will be a dedication ceremony with photo ops. Check back here for more information when it's available.
* * * * * *
Scholarship News
Generous classmates who have enabled our MHS 65 Scholarships recently voted to significantly increase the scholarships' meaningfulness to recipients – increasing each award to $5,000! This change will likely exhaust the scholarship fund in ten years, having helped nearly 30 students.
To date we've raised more than $100,000, clearly a worthy project in paying it forward for the Class of 65!
Best wishes to all in your own charitable activities,

* * * * * *
Registration form for Birthday Party
Our Foreign Exchange Student -- Nazek Fahmy Habib
It's been far too long (50+ years) since we've heard much from our class exchange student, Nazek Fahmy, but Mary Parsons Caisley, her Moline host, recently met up with her in Alexandria, Egypt. It looks like a joyous reunion. And we've been given the okay to post these pictures of them now. Hopefully we can get a little more information later.

* * * * * *
More photos. . .
If you'd like to post photos, just let us know or just add to the albums already available under the section called Photos: Then and Now. Two more albums were added recently for the 30th and 35th reunions. Please feel free to include your photos in them. You never know when they might put a smile on someone's face.
* * * * * *