Moline High School
Class of 1965
Welcome to the web site for the
Moline High School Class of 1965

Please join us on June 7th


Photo courtesy of Sally Robbins Weikel. From front clockwise: Cheri Williamson Schloemer, Ivan Streit, Tom Ahlstrand, Barry Curtis, Bill Carius, Joyce and Mitch Strach, Sally Robbins Weikel, John and Patty Sedlock, Jerry and Phyllis Miller.
HAFNERS — A Moline institution where the food is excellent and the fellowship even better--especially at lunchtime when members of the MHS class of '65 will gather. All are welcome--join in on Wednesday, June 7th at 11:30ish this coming month and every first Wednesday of the month in the future.
* * * * * *
These times make small get togethers more important than ever.
Whether in the north, south, east, or west, getting together with Moline classmates can be both fun and enjoyable. Please send us just a picture or two of your get together to inspire others to do the same this winter. Tell us where and who was there. Then check back here to learn who is out and about this winter.
In Ocala, FL on March ?, 2023.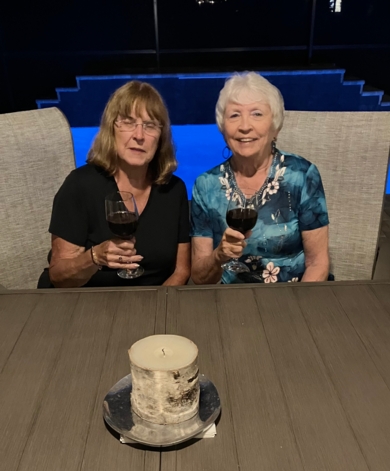 Above: Ginger Baker DeMarce, Renae Cason White
In Sarasota at Cooper's Hawk Winery & Restaurant, February 2, 2023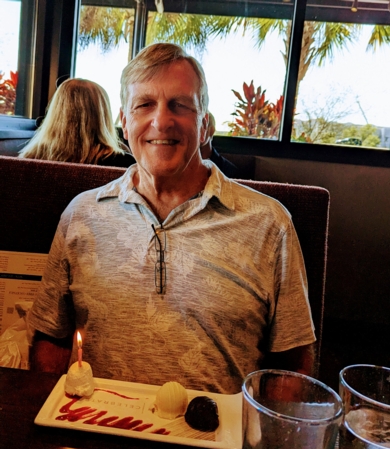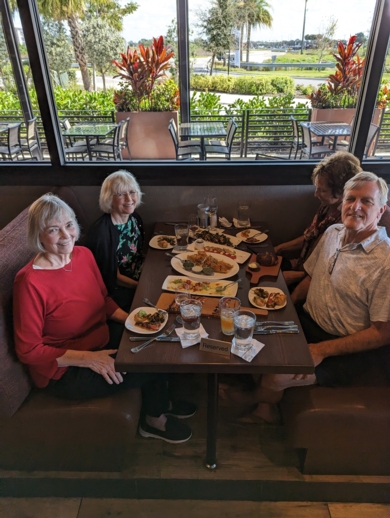 Above: Marie Flatley, Cheryl Anderson Lehew, Cyd Hillyer Humphries, and Jeff Johnson
In Naples at Deep Lagoon, January 2023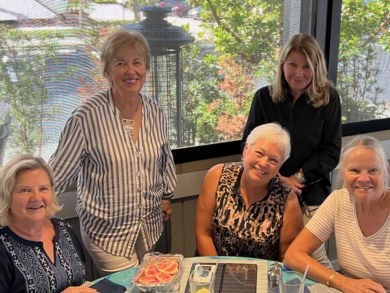 Above: Dee Karstens, Linda Swanson Nygaard, Claudia Cunningham Greenleaf '66, Val Miller '66, and Pam Peterson Verhille
In Bradenton, Florida, 2nd Annual Guy Fawkes Day mini-reunion on November 5, 2022,, at Cyd Hillyer's (photographer) house.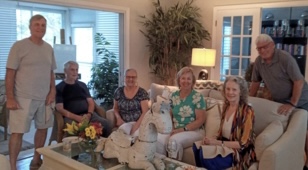 From left, Jeff Johnson, Larry and Chris (Eveland) VanLerberghe, Linda (Swanson) Nygaard, Stephanie Sundine, and Dale Nygaard.
In Sarasota, Spring 2022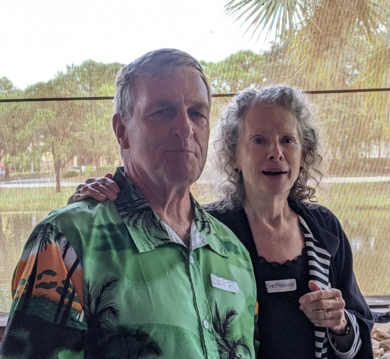 Above: Cyd Hillyer Humphreys (not in picture), Cheryl Anderson Lehew, Dee Karstens, Jeff Johnson, and Steph Sundine met for lunch. Jeff even treated all to appetizers.
In Fort Myers Spring 2022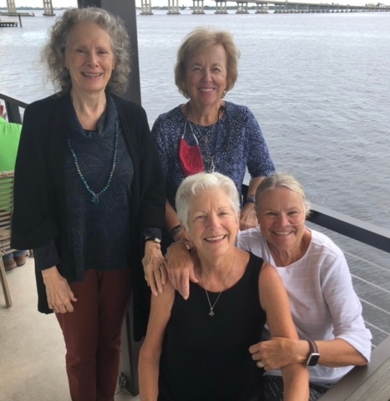 Above: Steph Sundine, Linda Swanson Nygaard, Deanna Rohrbach Rossow, and Pam Peterson Verhille enjoyed chatting in a lovely waterside setting.

In Punta Gorda in December 2021,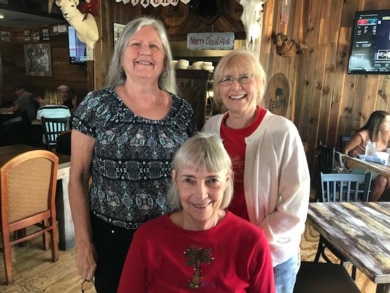 Chris Eveland VanLerberghe was visited by Cheryl Anderson Lehew and Marie Flatley. Later Larry VanLerberghe took them all for lunch at LeRoy's BBQ.
In Sarasota in February 2022,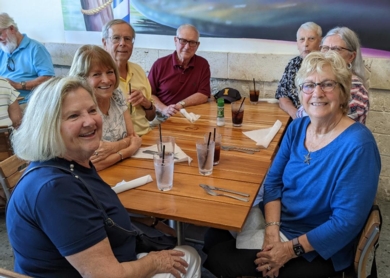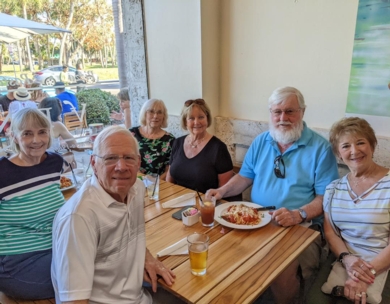 Some classmates from near and far met up at Venezia on St. Armand Circle in Sarasota to check-in, catch up, and get re-acquainted. In the top photo you'll see Dee Karstens, Connie Springer, Jon Chapman, Jon Katherman, Larry VanLerBerghe ('64) and Chris Eveland VanLerBerghe, and Sharon Brotman Erickson. In the bottom photo are Nick Eastland, Marie Flatley, Cheryl Anderson Lehew, Marg Rosborough Duer, Don Blaser, and Darlene Gabriel Katherman ('66). Time flew and all are looking forward to the big get together in September in Moline.
In May 2022,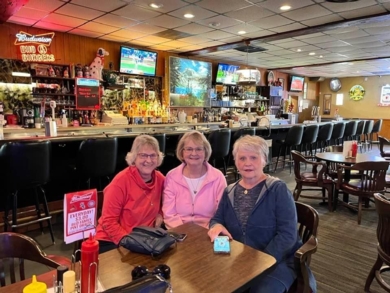 Above: Nine classmates (6 gals and 3 guys) met at Hafners in Moline for a bite and a visit. The three you see here were holding down for the group--Ellen Greene, Marji Wenos Watkins, and Jane Tschappt. Next lunch there is Wednesday, June 1, 2022, 11:30 am. Come join us!

* * * * * *
Re-dedication of 1965 Flood Fighting Plaque
Moline is honoring the hundreds of young people who tried to save the Quad Cities from the historic flood of 1965.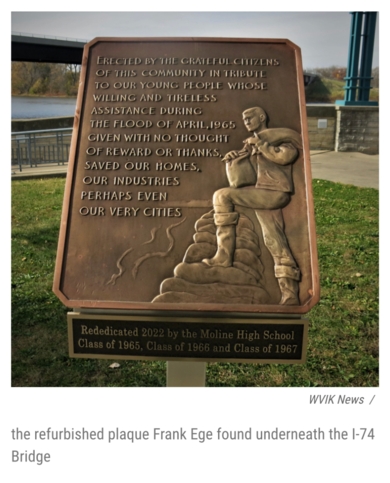 https://www.wvik.org/wvik-top-stories/2022-10-28/re-dedication-of-1965-flood-fighting-plaque
* * * * * *
Our Foreign Exchange Student -- Nazek Fahmy Habib
It's been far too long (50+ years) since we've heard much from our class exchange student, Nazek Fahmy, but Mary Parsons Caisley, her Moline host, recently met up with her in Alexandria, Egypt. It looks like a joyous reunion. And we've been given the okay to post these pictures of them now. Hopefully we can get a little more information later.

* * * * * *
More photos. . .
If you'd like to post photos, just let us know or just add to the albums already available under the section called Photos: Then and Now. Two more albums were added recently for the 30th and 35th reunions. Please feel free to include your photos in them. You never know when they might put a smile on someone's face.
* * * * * *