Moline High School
Class of 1965
In Memory
Kent Frazelle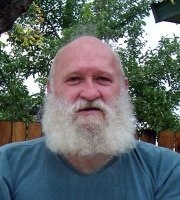 Kent Leigh Frazelle was born October 10, 1947, in Moline, the son of Jack and Ethel (LaRue) Frazelle. He married Dalene Langstaff on April 18, 1971, in Moline. He served in the United States Marine Corps during Viet Nam, and remained very close with his friends from the military.
He worked for the Rock Island Arsenal as a machine shop supervisor for over 30 years, retiring in 2002.
Kent was a member of the Moline American Legion Post #246, the Moline VFW Post #2056, and the Vikings Club. He enjoyed horseracing, training horses, working outside, and helping others with yard work. He and his wife have been spending half the year in Montana with their daughter's family for over ten years, and enjoyed traveling, especially visiting National Parks and casinos. Family was very important to Kent: he was very close with his siblings and their families, and treasured spending time with his wife, children, and grandchildren.
Kent is survived by his wife, Dalene; children, Kent Travis Frazelle of Moline, Gail and Nick Plovanic of Glasgow, Montana, Kyle Frazelle of Billings, Montana, and Brie Frazelle of Moline; grandchildren, Ryleigh and Benjamin Plovanic, Dakota Frazelle, Drake Lynn-Frazelle, Kelsey Frazelle, and Caiden Foutch; siblings, Jack and Jane Frazelle of Moline, Paulette and Rick Countryman of Peoria, Illinois, and Jay and Lisa Frazelle of Moline; and several nieces and nephews.