Moline High School
Class of 1965
In Memory
Dona Munger (Roels)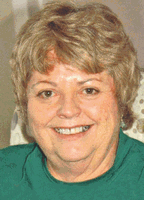 Dona J. Roels, 67, of Savanna, died peacefully surrounded by her loving family on Wednesday, May 20, 2015, at Big Meadows Nursing Home in Savanna, as a result of complications from stage IV lung cancer.
Dona was born Sept. 5, 1947, in Green Bay, Wis., the daughter of Harold and Helen (Sizemore) Munger.
Dona was raised by foster parents, Ed and Dorothy Toeppler in Menasha, Wis.
She attended grade school in Menasha and junior high school in Milwaukee.
Her family moved to Moline during her freshman year and she graduated from Moline High School with the Class of 1965. After high school, Dona graduated from Western Illinois University with her Bachelor's degree in English.
On June 14, 1969, Dona married Ron Roels in Moline.
Dona taught English at Fulton High School for several years, before retiring in 2004.
She was a member of the Calvary Lutheran Church in Sabula, Iowa.
Dona and her husband, Ron, enjoyed wintering in Alabama and spending time on their houseboat in Sabula with their F. Dock family. She also enjoyed gardening, cooking, and reading. Most of all, she cherished spending time with her grandchildren and her honorary grandchildren; including the kids at Center Hill Academy and Unity.
Dona will be dearly missed by her loving husband of 45 years, Ron of Savanna; one daughter, Suzanne (Dan) Woods of Savanna; a son, Benjamin Roels of Avon, Colo.; three grandchildren, Katie, Joey and Adam Woods; one brother, Doug Munger of Chicago; and two foster brothers, Bill (Nancy) Toeppler and Joel (Sue) Toeppler, both of Menasha, Wis.
Dona was preceded in death by her parents, Harold and Helen Munger; her mother and father-in-law, Mike and Edith Roels; her foster parents, Ed and Dorothy Toeppler; and one sister, Bonnie Munger.
A private family burial will be held at the Woodland Township Cemetery in rural Mount Carroll.