Moline High School
Class of 1965
In Memory
Judy Myers (Gabelhausen)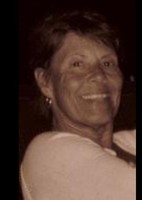 Judith Lee Gabelhausen, 66, of Hamilton, Mont., passed away peacefully on March 9, 2014, at 7:01 a.m. at St. Patrick Hospital in Missoula, Mont.
Judy was born in Burlington, Iowa, on Aug. 24, 1947. She graduated from Moline High School in 1965. She married Jack Gabelhausen in May 1967.
Judy was the foundation of the Gabelhausen family, and family was the most important thing to her in the world, especially her grandchildren. She lived life to the fullest, enjoying every minute with the people around her. She spent the 1980s and '90s with her boys and husband as they raced motocross all over the country. Later in life, she was the happiest with her family and friends at Flathead Lake and St. Thomas. There was no one on this earth who had her strength, courage and determination to accomplish the most difficult task. She was the strongest woman we all knew and always put others before herself. Please give her strength and peace in her journey to eternal life.
She was and always will be a beloved wife, mother, grandmother and best friend. We love you Jude.
Judy is survived by her husband, Jack; brother, Philip (Karen) Myers; three sons, Jack (Deb), Joe (Bonnie) and John (Jess) Gabelhausen; six grandchildren, Jaden, Ella, Jeff, Janelle, Vera and Lola; and several nieces and nephews. She was preceded in death by her parents, William and Mary Lou Myers.
It was Judy's wishes not to have a memorial service. In lieu of flowers to family, donations may be made to the Children's Cancer Research Fund in memory of Judy Gabelhausen Childrenscancer.org