Moline High School
Class of 1965
In Memory
Janet Ridenour (Konecky)
January 15, 2018
FORT, MYERS, Fla. -- Janet E. Konecky 70, of Ft. Myers, died Monday, January 15, 2018.
She had been a resident of Ft. Myers for the past year, coming from Coal Valley, Ill., and had been a winter resident of the area for the past 35 years. She was born February 21, 1947 in Moline, a daughter of the late Lawrence Ridenour and Marjorie (née Karn) Ridenour who survives.
She was a graduate of the University of Alabama, where she received her Bachelor's degree in Education. Janet taught in both the Ann Arbor, Mich., and the Moline school districts in the early 1070s. On December 27, 1970, she married John Phillip Konecky, and they were blessed with two beautiful children. Janet became a devoted stay-at-home mom after her children were born, and played a very active role in their lives. She was a member of the Orion PTA and Booster Club. She was committed to her church, Riverside United Methodist, Moline, and participated in Riverside United Methodist Women.
She was also a member and past president of the Chapter BL P.E.O. Sisterhood. Janet loved both children and animals, and she never met a stranger. She was an avid painter, always studying and learning new techniques. She especially enjoyed retreating to Bonita Springs for the winters with her husband, John.
She is survived by her daughter, Kathryn A. Meyer and her husband, Andrew Meyer of Moline; son, Matthew P. Konecky and his wife, Ashley Glasser-Konecky of Palm Beach Gardens, Fla.; granddaughter, Jade Konecky; her brother, David Ridenour and his wife, Joanne of Minooka, Ill.; niece, Jenna Dietze, nephew, Greg Ridenour and her sister-in-law, Gay Konecky and her partner, Marcia Jones and many other family and friends.
She was preceded in death by her father and her husband, John P. Konecky who died February 8, 2011.
A memorial service will be held at a later date at the Riverside Methodist Church, 712 16th St., Moline.
Visitation is 10 a.m. Saturday, March 10, at Riverside Methodist Church, 712 16th St., Moline. A memorial service will follow at 11 a.m. Saturday at the church. Donations in Janet's memory can be made to the Niabi Zoological Society, 10310 Niabi Zoo Road, Coal Valley, IL 61240 or the United Methodist Committee on Relief, P.O. Box 9068, New York, NY 10087-9068. To sign her guest book or to leave online condolences, please visit ShikanyFuneralHome.com. Arrangements were handled by Shikany's Bonita Funeral Home, 239-992-4982.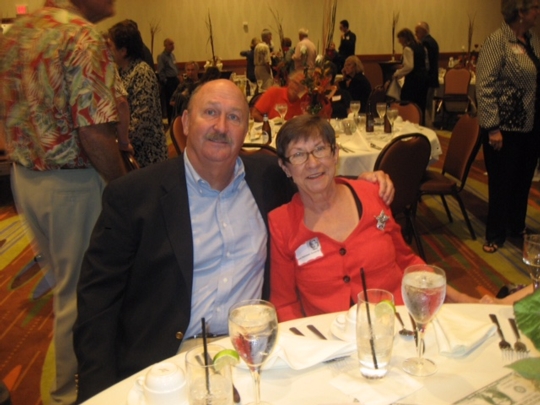 45th class Reunion
Courtesy of Linda Swanson Nygaard