Moline High School
Class of 1965
In Memory
Donald Schmidt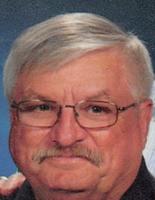 Donald L. Schmidt, 73, of Jacksonville, IL died Friday, March 26, 2021, at Passavant Area Hospital in Jacksonville. He was born May 18, 1947, in Moline, IL the son of Harland and Virginia Little Schmidt. He married Joyce A. Rohling on June 30, 1979, at Church of Our Saviour in Jacksonville, and she preceded him in death on March 13, 2015.
Don is survived by two children, Kristina Geralyn (Scott) Rocca of St. Louis, Missouri and Nikolaus Andrew Schmidt of Fairfield, Iowa; two sisters, Vicki (Jack) Kerckhove of East Moline, IL and Valorie (Bruce) Daniel of Orion, IL; nieces and nephews, Brett (Megan) Daniel, Jilliane (Dustin) Westphall, Steve Kerckhove, Kelly Rohling, Kevin (Kim) Rohling, Gavin (Kate) Rehkemper, Kelsey (Andrew) Mack, and Clayton Rehkemper; four great-nieces, one great-nephew and several cousins. He was preceded in death by one infant daughter, Erika Anne Schmidt.
Don was a 1965 graduate of Moline High School and later earned his degree from Sangamon State University in 1982. Don was employed by Ameren Illinois, previously Illinois Power from 1970-2006, and later J.F. Electric.
Don was a longtime member of the Church of Our Saviour and an active member of the Minutemen. He was also a member of the Knights of Columbus, Routt Booster Club, Calvary Cemetery Board of Directors where he served as the cemetery manager for several years. In addition, he was a member of the Jacksonville Moose, Kiwanis and Elks Lodge and was a proud member of the Whobe's Softball Team. Don was an avid golfer and sports fan and especially enjoyed cheering for Routt Catholic High School, Our Saviour School, the Fighting Illini, White Sox, Bears, Blues and other local teams.
A funeral mass will be celebrated at 10:30 a.m. a.m. on Friday, April 9, 2021, at the Church of Our Saviour in Jacksonville with burial at St. Bartholomew Cemetery near Murrayville. The family will meet friends following a 4:45 p.m. prayer service until 7:00 p.m. on Thursday, April 8, 2021 and from 9:00-10:00 a.m. on Friday at Williamson Funeral Home in Jacksonville. Memorials are suggested to Routt Catholic High School Athletics, Our Saviour School Athletics or the Knights of Columbus. Condolences may be left online at www.airsman-hires.com.
https://www.airsman-hires.com/obituaries/Donald-L-Schmidt?obId=20491265#/obituaryInfo