Moline High School
Class of 1965
In Memory
Thomas Trich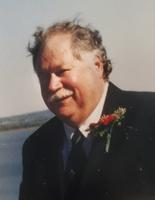 Thomas H. Trich, 76, of Fulton formerly of East Moline passed away Monday, March 6, 2023 at the University of Iowa Hospitals and Clinics - Iowa City, Iowa.

Memorial Services will be 11:00 am, Tuesday, March 14, 2023 at the Snell-Zornig Funeral Homes & Crematory. Visitation will be from 4:00 to 7:00 pm Monday evening at the funeral home. Online condolences may be expressed by visiting his obituary at www.snellzornig.com.

Thomas Harold Trich was born February 18, 1947 in Moline, Illinois, the son of Harold and Ruby (Peterson) Trich. He married Karen Ridenour on June 21, 1969 at the Bethel Methodist Church in Moline, Illinois. He graduated from UIC Pharmaceutical in Chicago and attended the University of Illinois. He worked as a Pharmacist for 43 years, retiring from Walgreens in East Moline in 2013.

Tom enjoyed time spent with his family and especially his grandchildren. He enjoyed time traveling to Colorado and listening to music. He was a man with a great sense of humor, he took his children fishing and could fix many things. He will be greatly missed.

Tom is survived by his wife Karen Trich of Fulton; three children: Bryan Trich of Clinton, Paul (Jennifer) Trich of Fulton and Brooke (Christ) Benson of Loveland, Colorado; three grandchildren: Eleanor, Brylee and Sam; two siblings: Steve Trich of Satellite Beach, Florida and Karen (John) Lasley of Coal Valley, Illinois; and one special cousin: Linda Overman of Silvis. He was preceded in death by his parents and two brothers, Warren and Ronald Trich.

Memorials may be made to the American Cancer Society.
https://obituaries.clintonherald.com/obituary/thomas-trich-1087252649