Moline High School
Class of 1965
Welcome to the web site for the
Moline High School Class of 1965
Last chance in 2021 to pull up a chair with us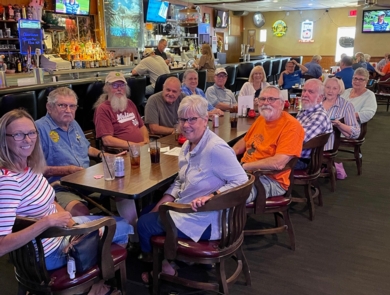 Patty and John Sedlock, Jerry Miller, Ron VanDale, Sharon Shaffer, John Katherman, Cheryl Anderson Lehew, Betty Bloeser Morgan, Jeanine Forsyth, Barry Curtis, Bob and Cindy Groene. Butch Trevor and Randy Ruggeberg came after photo taken.
HAFNERS — A Moline institution is open with a small change requiring a mask to enter but not while seated at tables. But the food is excellent and the fellowship even better--especially at lunchtime when members of the MHS class of '65 will gather.
All are welcome--join in on Wednesday, December 1st, at 11:30 ish this month and every first Wednesday of the month in the future.
* * * * * *
These times make small get togethers more important than ever.
Whether in the north, south, east, or west, getting together with Moline classmates can be both fun and enjoyable. And even if you're not a camera person, send us just a picture or two of your get together to inspire others to do the same this winter. Tell us where and who was there. Then check back here to learn who is out and about this winter.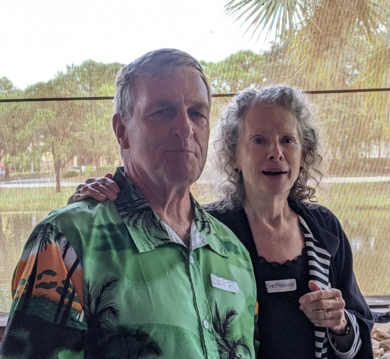 In Sarasota, Cyd Hillyer Humphreys, Cheryl Anderson Lehew, Dee Karstens, Jeff Johnson, and Steph Sundine met for lunch. Jeff even treated all to appetizers.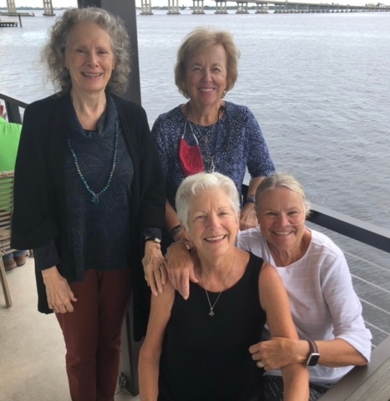 In Ft. Myers, Steph Sundine, Linda Swanson Nygaard, Deanna Rohrbach Rossow, and Pam Peterson Verhille enjoyed chatting in a lovely waterside setting.


* * * * * *
You can mark your calendar for our 75th birthday party!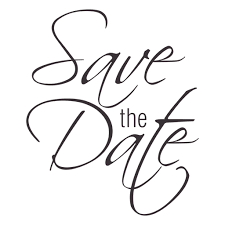 🎈Plan to join your "old" classmates and make quality new friends September 16-17, 2022, at CityView in Moline. More details and registration info will follow, so check back here when it's available.
* * * * * *
Introducing our TWO scholarship winners for 2021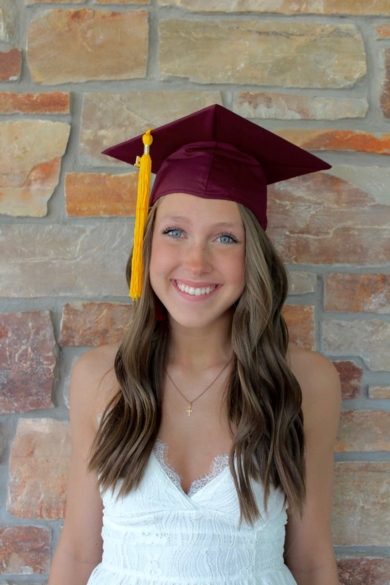 To the Class of '65,
Hi my name is Taylor Bohannon, and I'm honored to be receiving this scholarship! I am attending Drake University to study Pre-Occupational Therapy, and be a member of the Drake Dance Team. I will obtain my doctorate degree in the 3+3 program at Drake and plan to specialize in pediatrics and open my own private practice. This scholarship will help me to reach my goals and aspirations in order to make my mark on society.
I cannot thank you enough for helping me succeed in my future endeavors.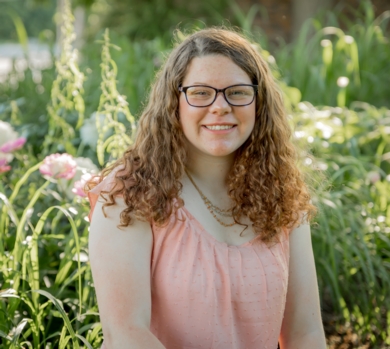 Hello, my name is Camryn McBride. During high school, I was on the Girls Bowling Team, participated in Symphonic and Chamber Orchestras, and in the Quad City Youth Philharmonic Orchestra. This fall, I will be attending the University of Wisconsin Stevens Point. I am planning to work towards a bachelors in Wildlife Ecology.
I am very grateful and honoured to be granted this scholarship. Thank you Class of '65 for investing in my future!
* * * * * *
ATTENTION GRANDPARENTS, GREAT AUNTS & UNCLES
When the MHS65 Scholarship set sail some seven years ago, we challenged ourselves with several goals. Most have been met or even exceeded. Way to go 65 Maroons!
While not a goal, but a thought back then: wouldn't it be cool if a descendant of a MHS65er were to apply and be selected. That has yet to happen, thus a purpose for this message.
If you have a grandchild, great grandchild, great niece/nephew, second/third cousin who may be graduating from MHS, please encourage him or her to apply for one or our two $ 1,000 scholarships.
Additionally, over the past few years a still unmet goal is to award a scholarship to a Maroon planning to attend a career or trade school. These are the occupations we interact with on a nearly daily basis such as the staffer in medical and dental offices, car repair, welding, hairdresser/barber, construction supervision, respiratory therapy, LPN, HVAC tech, CDL driver—to name a few. Our unscientific research shows these occupations usually require a year or so of school which can cost over $10,000. We will continue this pursuit but thought you might be able to help us spread the word.
Here is a good place to tell them start: Available Scholarships | MFWIP (molinefoundation.org)
* * * * * *
Meet John Melton, Our Scholarship Winner for 2020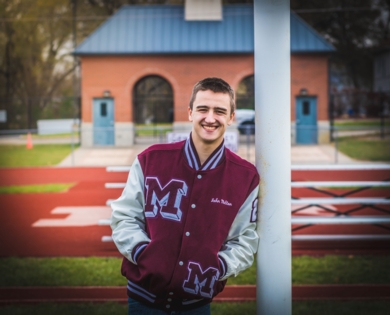 I'm honored to be receiving the scholarship because it means you believe in me and are willing to help further my education. I will be attending Augustana College in the fall and plan to become a mechanical engineer.
During this pandemic it's hard to not think about what other people could be doing differently, but you can't control others actions. It's just best to make sure you're doing your part and find ways to occupy yourself. If you can somehow incorporate helping others into that even better.
I am particularly grateful for the assistance that will make the transition to college easier.
--John Melton
* * * * * *
Our Foreign Exchange Student -- Nazek Fahmy Habib
It's been far too long (50+ years) since we've heard much from our class exchange student, Nazek Fahmy, but Mary Parsons Caisley, her Moline host, recently met up with her in Alexandria, Egypt. It looks like a joyous reunion. And we've been given the okay to post these pictures of them now. Hopefully we can get a little more information later.

* * * * * *
More photos. . .
If you'd like to post photos, just let us know or just add to the albums already available under the section called Photos: Then and Now. Two more albums were added recently for the 30th and 35th reunions. Please feel free to include your photos in them. You never know when they might put a smile on someone's face.
* * * * * *