Moline High School
Class of 1965
Welcome to the web site for the
Moline High School Class of 1965
Scholarship News
Generous classmates who have enabled our MHS 65 Scholarships recently voted to significantly increase the scholarships' meaningfulness to recipients – increasing each award to $5,000! This change will likely exhaust the scholarship fund in ten years, having helped nearly 30 students.
To date we've raised more than $100,000, clearly a worthy project in paying it forward for the Class of 65!
Best wishes to all in your own chariatable activities,

* * * * * *
You're invited . . .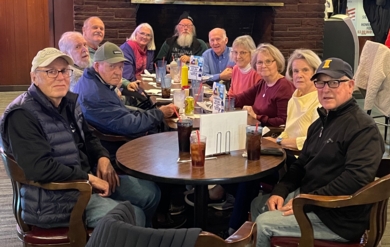 Bob Groene, photographer (front center chair) Clockwise from left Randy Ruggeberg, Curt Anderson, Barry Curtis, Ron VanDaele, Phyllis Miller, Jerry Miller, Butch Trevor, Ellen Gizynski, Margi Wenos, Chris Michaelsen, John Katherman
HAFNERS — A Moline institution where the food is excellent and the fellowship even better--especially at lunchtime when members of the MHS class of '65 will gather. All are welcome--join in on Wednesday, June 1st, at 11:30 ish this month and every first Wednesday of the month in the future.
* * * * * *
You can mark your calendar for our 75th birthday party!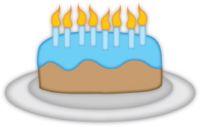 🎈Plan to join your "old" classmates and make quality new friends September 16-17, 2022, at CityView in Moline. Both Friday's Casual Night and Saturday's Dinner Night will be at CityView, Velie Park, 701 12th Street, Moline, Illinois 61265. For those who enjoy the fresh air and extra space, the staff will set up tables and chairs outdoors just outside the main entrance. This is weather permitting of course, and it would provide a nice view of downtown Moline. You'll also find plenty of easy, free parking and enjoy nice views as well.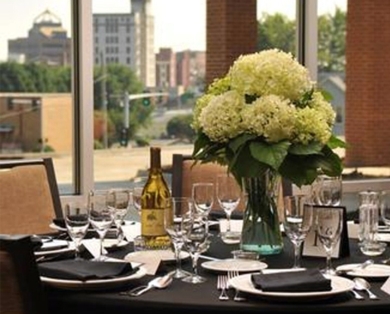 🛏 🏨
We've set up room blocks at the Moline Radisson and East Moline Hyatt, or you can get your own nice basic accommodation at Moline's Best Western Airport and Holiday Inn Express.
Here's the information for our room blocks:
Radisson (309-764-1000)— Th-Sun before-tax rates for Double Queen $99+, King $109+ are available until August 26, 2022. Ask for the MHS Class of 65 room block.
Hyatt House (309-755-6000)—Th-Sun rates for King Suite or ADA rooms $149 are available until August 15, 2022. Press 2 for Hyatt House and ask for Moline HS Class of 65 room block.
More details on registration info will follow soon, so check back here when it's available. In the meantime, please update your email address and contact information so you get the notices. If you can contact others in the class to spread the word, your help will be greatly appreciated.
You should have gotten a registration form with your email announcement sent out May 18, 2022, or you can get it here.
Please return it by August 31, 2022.
* * * * * *
These times make small get togethers more important than ever.
Whether in the north, south, east, or west, getting together with Moline classmates can be both fun and enjoyable. And even if you're not a camera person, send us just a picture or two of your get together to inspire others to do the same this winter. Tell us where and who was there. Then check back here to learn who is out and about this winter.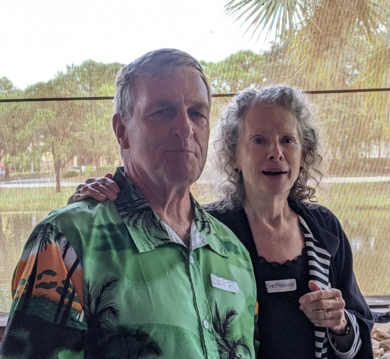 In Sarasota, Cyd Hillyer Humphreys (not in picture), Cheryl Anderson Lehew, Dee Karstens, Jeff Johnson, and Steph Sundine met for lunch. Jeff even treated all to appetizers.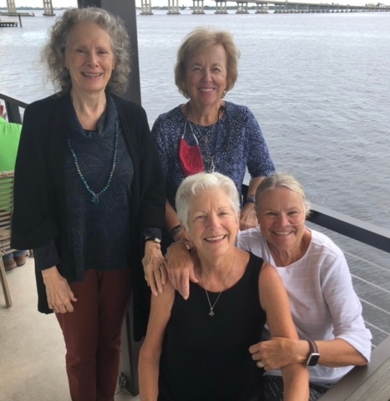 In Ft. Myers, Steph Sundine, Linda Swanson Nygaard, Deanna Rohrbach Rossow, and Pam Peterson Verhille enjoyed chatting in a lovely waterside setting.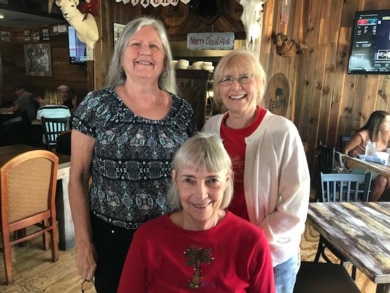 In Punta Gorda, Chris Eveland VanLerberghe was visited by Cheryl Anderson Lehew and Marie Flatley. Later Larry VanLerberghe took them all for lunch at LeRoy's BBQ.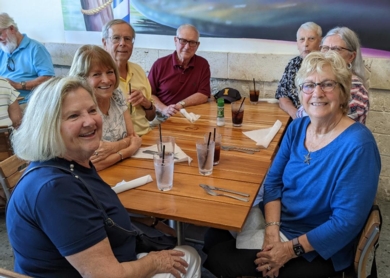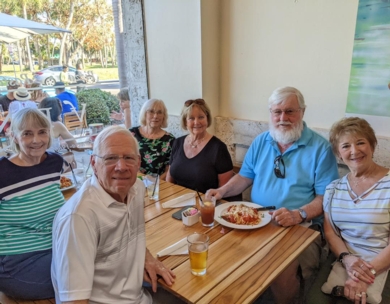 In February some classmates from near and far met up at Venezia on St. Armand Circle in Sarasota to check-in, catch up, and get re-acquainted. In the top photo you'll see Dee Karstens, Connie Springer, Jon Chapman, Jon Katherman, Larry VanLerBerghe ('64) and Chris Eveland VanLerBerghe, and Sharon Brotman Erickson. In the bottom photo are Nick Eastland, Marie Flatley, Cheryl Anderson Lehew, Marg Rosborough Duer, Don Blaser, and Darlene Gabriel Katherman ('66). Time flew and all are looking forward to the big get together in September in Moline.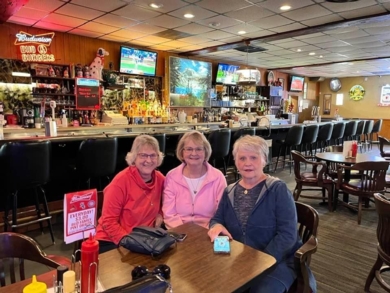 In May nine classmates (6 gals and 3 guys) met at Hafners in Moline for a bite and a visit. The three you see here were holding down the group--Ellen Greene, Marji Wenos Watkins, and Jane Tschappt. Next lunch there is Wednesday, June 1, 11:30 am. Come join us!

* * * * * *
Introducing our TWO scholarship winners for 2021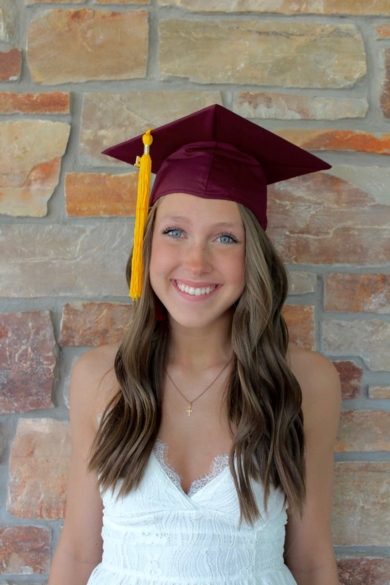 To the Class of '65,
Hi my name is Taylor Bohannon, and I'm honored to be receiving this scholarship! I am attending Drake University to study Pre-Occupational Therapy, and be a member of the Drake Dance Team. I will obtain my doctorate degree in the 3+3 program at Drake and plan to specialize in pediatrics and open my own private practice. This scholarship will help me to reach my goals and aspirations in order to make my mark on society.
I cannot thank you enough for helping me succeed in my future endeavors.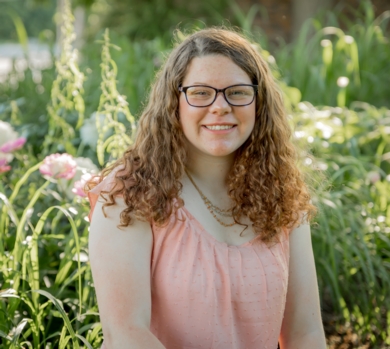 Hello, my name is Camryn McBride. During high school, I was on the Girls Bowling Team, participated in Symphonic and Chamber Orchestras, and in the Quad City Youth Philharmonic Orchestra. This fall, I will be attending the University of Wisconsin Stevens Point. I am planning to work towards a bachelors in Wildlife Ecology.
I am very grateful and honoured to be granted this scholarship. Thank you Class of '65 for investing in my future!
* * * * * *
Meet John Melton, Our Scholarship Winner for 2020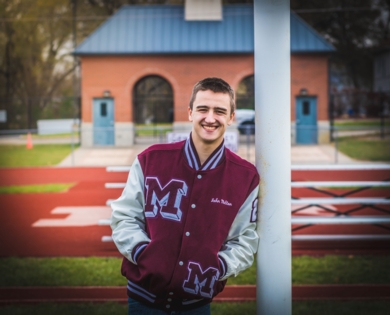 I'm honored to be receiving the scholarship because it means you believe in me and are willing to help further my education. I will be attending Augustana College in the fall and plan to become a mechanical engineer.
During this pandemic it's hard to not think about what other people could be doing differently, but you can't control others actions. It's just best to make sure you're doing your part and find ways to occupy yourself. If you can somehow incorporate helping others into that even better.
I am particularly grateful for the assistance that will make the transition to college easier.
--John Melton
* * * * * *
Our Foreign Exchange Student -- Nazek Fahmy Habib
It's been far too long (50+ years) since we've heard much from our class exchange student, Nazek Fahmy, but Mary Parsons Caisley, her Moline host, recently met up with her in Alexandria, Egypt. It looks like a joyous reunion. And we've been given the okay to post these pictures of them now. Hopefully we can get a little more information later.

* * * * * *
More photos. . .
If you'd like to post photos, just let us know or just add to the albums already available under the section called Photos: Then and Now. Two more albums were added recently for the 30th and 35th reunions. Please feel free to include your photos in them. You never know when they might put a smile on someone's face.
* * * * * *