Moline High School
Class of 1965
Welcome to the web site for the
Moline High School Class of 1965
You're invited . . .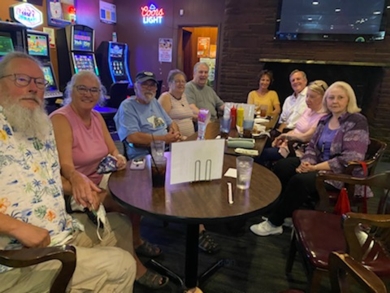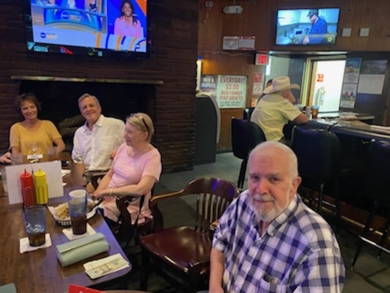 Photos courtesy of Jeannine Forsyth: Jerry Miller, Phyllis Miller, Bob Groene, Joyce McMinn Strach, Tom Alstrand, Cyd Hillyer Humphreys, Jeff Johnson, Vee Johnson Maday, Barry Curtis
HAFNERS — A Moline institution where the food is excellent and the fellowship even better--especially at lunchtime when members of the MHS class of '65 will gather. All are welcome--join in on Wednesday, October 5th, at 11:30 ish this month and every first Wednesday of the month in the future.
* * * * * *
Good memories
* * * * * *
Scholarship News
Generous classmates who have enabled our MHS 65 Scholarships recently voted to significantly increase the scholarships' meaningfulness to recipients – increasing each award to $5,000! This change will likely exhaust the scholarship fund in ten years, having helped nearly 30 students.
To date we've raised more than $100,000, clearly a worthy project in paying it forward for the Class of 65!
Best wishes to all in your own charitable activities,

* * * * * *
Our Foreign Exchange Student -- Nazek Fahmy Habib
It's been far too long (50+ years) since we've heard much from our class exchange student, Nazek Fahmy, but Mary Parsons Caisley, her Moline host, recently met up with her in Alexandria, Egypt. It looks like a joyous reunion. And we've been given the okay to post these pictures of them now. Hopefully we can get a little more information later.

* * * * * *
More photos. . .
If you'd like to post photos, just let us know or just add to the albums already available under the section called Photos: Then and Now. Two more albums were added recently for the 30th and 35th reunions. Please feel free to include your photos in them. You never know when they might put a smile on someone's face.
* * * * * *